SmartBus McLaren Vale Winery Tours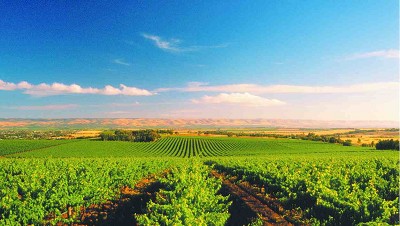 As mentioned in our previous post – Mini Bus Winery Tours there are lots of great wineries just a short drive from Adelaide. There is the Barossa Valley in the north, The Adelaide Hills in the east and McLaren Vale in the South. Today, I'm going to tell you about some of the great wineries in McLaren Vale. That way, when you want to book a wine tour with us, you might have an idea of where you want to visit on your McLaren Vale Winery Tours.
McLaren Vale
The climate in the McLaren is very similar to the Mediterranean and with similar soil conditions, you will find a lot of similar grape varieties. In recent times there has been a big push to sustainable farming and wine-making techniques. A lot of the wineries mentioned below have taken on this philosophy.
Samuel's Gorge Wines
Located on the northern extent of McLaren Vale, Samuel's Gorge Wines was established by winemaker Justin McNamee in 2003. The winery and cellar door, originally a farm shed built in 1853, sits atop a ridge overlooking the Onkaparinga River National Park on the northern side and the ocean to the south.
They focus on five key varietals – Grenache, Shiraz, Mourvedre, Graciano and Tempranillo.
Alpha Box & Dice Wines
Taking a bit of a different approach, Alpha Box and Dice have set out to create a different wine for every letter of the alphabet. Each one has its own personality and style, from Apostle to Zaptung, with many different varietals for you to try.
The majority of their wines are blends, but there are quite a few that are not like Grenache, Montepulciano, Prosecco, Dolcetto and Barbera to name a few.
Chapel Hill Winery
Yes, the winery was once a chapel (back in 1865 to 1965). It was converted from a church into a winery in the '70s, the foundation of what it is today. The winery is set high atop a ridge in the north of the McLaren Vale region.
There are many varietals to choose from including Shiraz, Sangiovese, Chardonnay and Verdelho plus plenty of blends and a Tawny Port.
Fox Creek Wines
Winners of a series of McLaren Vale Wine Show awards for their Reserve Shiraz, Fox Creek was established by an enthusiastic group of Doctors. The 1880's stone cottage, built by the Malpas family, opened as the cellar door in 1996. The Cellar Door is set in a beautiful location with a lake, ancient large eucalypt and olive trees and water birds. A great place to pause, have a picnic or just relax.
Varietals include Shiraz, Nero d'Avola, Merlot, Verdelho and blends.
Kay Brothers Amery Wines
Kay Brothers Amery Wines are specialist traditional red winemakers and the oldest winery still in founding family hands in McLaren Vale. They still possess and display the original diaries kept by their forefathers in 1890 when the winery was established.
A majority of the varietals are reds like Shiraz, Merlot, Grenache and Mataro but occasionally you can find a white too like their White Frontignac (also called Muscat Blanc). They also have a nice range of fortified wines, like the Founders Old Tawny, Grand Liqueur Muscat and Rare Muscat.
But that's not all!
There are plenty more wineries that we haven't mentioned like:
Oliver's Taranga Vineyards
Mollydooker Wines and
Hugh Hamilton Wines
just to name but a few. Maybe you have your own favourite you would like to visit, just tell us when you make your booking and our journey co-ordinators will make sure it is on the tour.
But maybe you'd like a change of pace part way through your tour. If so, why not visit Goodieson Brewery and try some handcrafted beers or Menz Chocolates if you are more of a sweet tooth.
Want to do a wine tour of the McLaren Vale region and visit some of the wineries mentioned? Book now with SmartBus and have a great day out!