Barossa Valley Winery Tours with SmartBus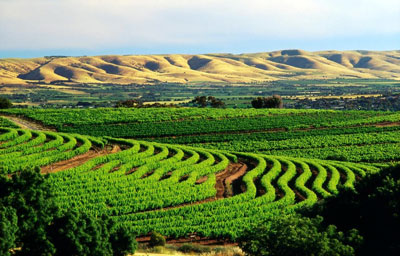 In a previous post – Mini Bus Winery Tours I told you about how there are lots of great wineries that are only a short drive from Adelaide. From the Barossa Valley in the north to The Adelaide Hills in the east and McLaren Vale in the South.
Last week I told you about the McLaren Vale wine district and some of the wineries there. Today, we're going to look at Barossa Valley Winery Tours. The idea is to give you a clue as to where you might want to visit before you book a wine tour with us.
The Barossa Valley
With rainy winters and cool summers, the climate makes it perfectly suited for red wine production. Then there's the nearby Eden Valley. This beautiful region boasts an excellent reputation for premium wines thanks to its higher altitude and cooler climate. The Barossa Valley is perfect for producing Shiraz and Cabernet while Eden Valley for Riesling and Chardonnay.
There are many wineries within this region that are some of the biggest names in Australian wines:
Penfolds
Yalumba
Jacob's Creek
Wolf Blass
Chateau Yaldara and
Chateau Tanunda.
If you are familiar with these names then you probably have tried them already. If not, visit them and see what they have to offer. These are some of the oldest wineries in the region. The cellar doors and grounds themselves are often breathtaking and well worth the visit.
Barossa Valley Winery Tours: Bethany Wines
One of the oldest winemakers in the Barossa Valley, Bethany Wines is run by fifth and sixth generations of the Schrapel family. This  family first planted their vineyards in 1852. There are many wine varieties to choose from including:
Riesling
Chardonnay
Semillon
Cabernet Sauvignon
Cabernet Merlot
Shiraz, Rose and
Fortifed wines like Muscat and Tawny Port.
Barossa Valley Winery Tours: Chateau Dorrien
Smaller than and not as old as many wineries in the area but just as dedicated to producing premium wines. The website states:
We grow the grape, we make the wine, we bottle it, we sell it and YES! We do drink it. I think that captures it all. The team at Chateau Dorrien Winery have a passion for the wine and the steady growth in popularity and appreciation reflects that.
You will find some different varieties here as well as the common choices.
Riesling
Semillon
Cabernet Sauvignon
Shiraz
Rose
White Port
Chocolatino (a chocolate liqueur) and
A range of Meads.
Barossa Valley Winery Tours: Peter Lehmann Wines
You'd be forgiven for thinking this is another old winery, as the cellar door is situated in a lovely old building. While the old stone building was orginally used as a winery, it was repurposed when Peter Lehmann Winery was established in the late 1970's. Another relatively young winery, the first vintage was produced in 1980. Considered a medium-sized winery, you will still find more than 40 wines to taste in the Cellar Door.
There is a range of varietals including Cabernet Sauvignon, Chardonnay, Pinot Grigio, Red Blends, Riesling, Rose, Sauvignon Blanc, Semillon, Shiraz, Tempranillo and Verdejo.
Barossa Valley Winery Tours: Saltram Wine Estate
The original winery was established in 1859 with their first vintage produced in 1862. Since then a rich tradition of winemaking excellence and the production of quality premium wines has continued.
Many varietals are available here including Shiraz, Cabernet Sauvignon, Grenache, Fiano, Sangiovese, Shiraz Tempranillo, Semillon, Chardonnay, Riesling and a Tawny Port.
Barossa Valley Winery Tours: Seppeltsfield Estate Winery
Purchased in 1850 and originally farming tobacco, the later generations concentrated their efforts on grape growing and winemaking. During the late 1800s wines and spirits were exported to England and medicinal Brandy to Australian hospitals. In the 20th century they expanded into spirits like Brandy, Gin and Vermouth and also cordials, vinegars and essences. Today, they are most famed for the Centennial collection – an unbroken lineage of Tawny from 1878 to the current year. They are the only winery in the world to release a 100 year old, single vintage wine each year.
Varietals include Riesling, Vermentino, Moscato, Sparkling White (Chardonnay and Pinot Noir), Sparkling Shiraz, Shiraz, Cabernet Shiraz, Grenache, Liqueur Shiraz, White Fortified, Apera (Sherry), Grand Today, Grand Muscat, Tawny and Liqueur Tawny.
But that's not all!
This is just a small taste or the wineries that are present in the Barossa Valley. Maybe you have your own favourite you would like to visit, just tell us when you make your booking and our journey co-ordinators will make sure it is on the tour.
But maybe you'd like a change of pace part way through your tour. If so, why not visit Maggie Beer's Farm Shop or follow the Butcher, Baker, Winemaker trail or the Barossa Cheese and Wine trail?
Want to do a wine tour of the Barossa Valley region and visit some of the wineries mentioned? Book now with SmartBus and have a great day out!